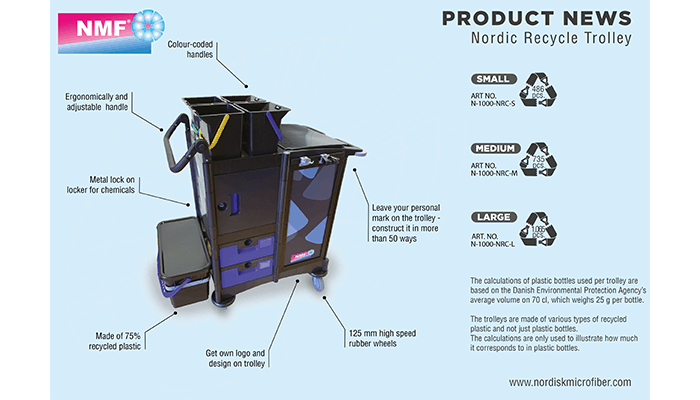 Nordic Recycle Trolley
Environmentally conscious, stylish and customised!
We proudly announce the series Nordic Recycle Trolley, which combines sustainability, design and functionality in a unique way.
The cleaning trolleys are made of 75% recycled plastic and all materials used are 100% recyclable. Therefore the series inserts oneself in the circular mindset of the society – and thus numerous of the end-users demands to sustainable products.
The stylish design addresses to the quality conscious consumer. The trolley is very easy to use with all the useful functions, e.g. locked cabinets, adjustable handle and easy manoeuvrable wheels.
It is our most flexible cleaning trolley and it is possible to customise the trolley. It can be assembled in several different ways and furthermore it is possible to get own logo and design on the sides of the trolley.
The series is in 3 sizes:
Se all sizes here.
The series is HACCP approved which means, that the trolleys are allowed to be in areas with food, e.g. cafeterias, kitchens, hospitals and restaurants.
For several years we have extended our portfolio of sustainable products, that both reduce the environmental impact, take care of the end-user and result in significant economical cost savings. In 2018 we introduced our TCO tool (Total Cost of Ownership), which documents cost savings in the overall economy. In addition we offer a complete product line of microfiber products marked with The Nordic Ecolabel.
Therefore expanding the sutainable product line comes perfectly easily to us.
4.03.2019
Comprehensive eco-labelling of the BASIC line
90% af vores basic-serie er nu miljømærket med STANDARD 100 by OEKO-TEX® - Tiltro til tekstiler. Certificeringen forener laveste indkøbspris med produkter, der er dokumenteret uden skadelige stoffer.