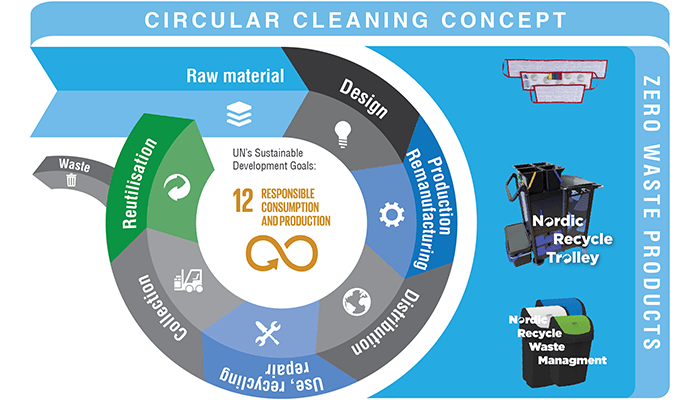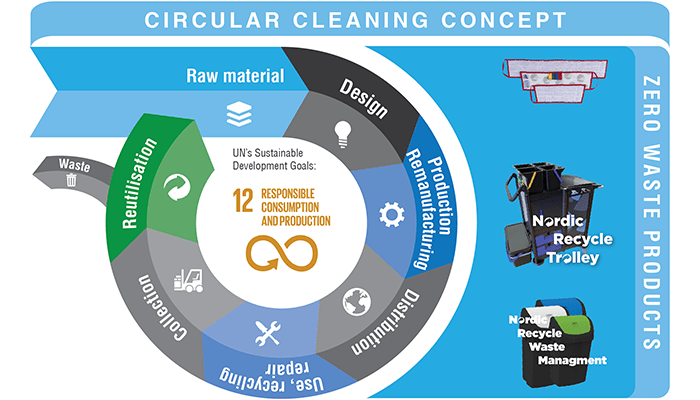 Circular cleaning concept
Utilise the resources with a circular cleaning concept from NMF
At Nordisk Microfiber we have developed a circular cleaning concept that can form part of circuits, because they are 100% recyclable.
Put together a selection of our 31 products marked with The Nordic Eco-label – the best raw materials, the highest quality of cleaning, the longest shelf life and TCO documented cost savings. 
Put the selcetion together with the Nordic Recycle Trolley series – the markets most sustainable cleaning trolley. It consists of 75% recycled plastic, and all materials used are 100% recyclable.
Altogether it makes up a strong, circular cleaning concept, that meet the EU Green Public Procurement Criteria for products used to indoor cleaning.
A concept that ensures:
Sustainable life cycle for the products
100% recyclable products
Minimal waste
As little as possible CO2 and environmental impact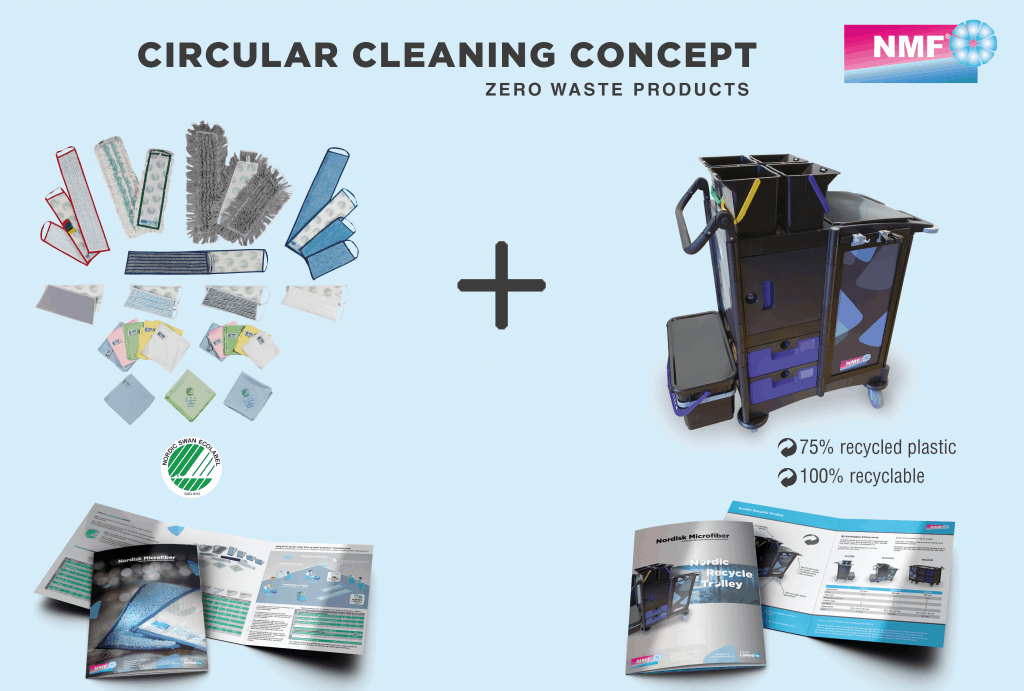 Why circular economy?
Choose a circular cleaning concept if you want to take responsibility for the environment. The concept utilise the recources to the max – from production to reutilisation.
It is an environmentally conscious choice but it also strenghtens your environmental profile.
Our throw-away society is not sustainable in the long run.
There is a call for new solutions if we are to ensure sustainability in the future.
It takes a more circular thinking in proportion to how we manufacture our products and act as consumers (Ministry of Environment and Food of Denmark).

Circular economy is about utilise valuable resources. Instead of use and throw away we should use products several times (reuse) or use the materials for new products (recycle). Like that the products will not end up as useless waste, instead they are being transformed into new products – again and again.
In other words, products and materials form part of repeating circuits, where their value is being maintained. The concept is developed by inspirations of nature, where for e.g. the surplus of materials from one season is a part of the next season as nutrients.
Circular economy ensures the sustainability of the products from cradle to cradle. Choose circular products in order to utilise the resources the best way and avoid waste.
Download the brochures directly from our website or order them in hard copy.
Find them for download here: www.nordiskmicrofiber.com