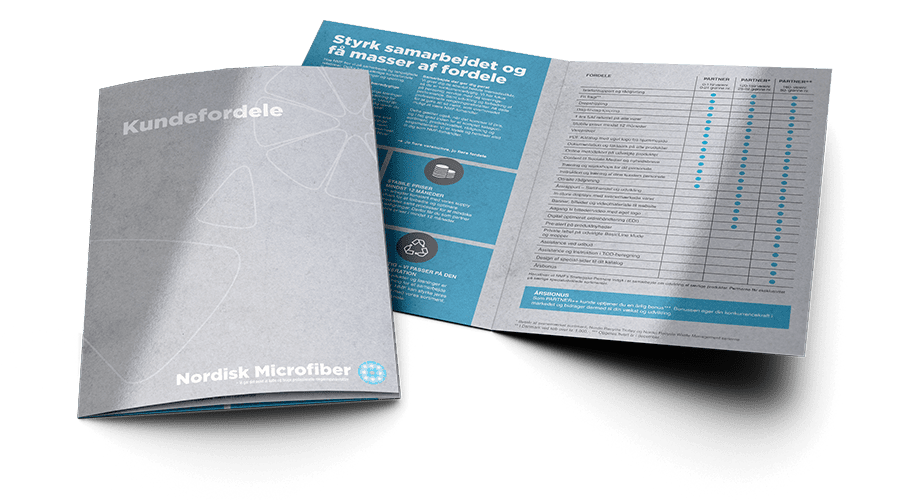 Get many advantages
We believe in cooperation and long-term relations. That is why we have exceptional customer advantages for NMF wholesalers who want solutions and professional guidance.
Expand your selection with sustainable solutions and obtain advantages
The demand for sustainable solutions are growing and is often a condition for a cooperation with your customers.
Expand your selection to be prepared. At the same time you obtain many advantages as a customer at NMF.
You choose your selection among more than 1000 item numbers including sustainable green* item numbers. To make it easy we have visualised your customer advantages in the overview in the leaflet. See how you obtain a lot of advantages and how to become a PARTNER+ or PARTNER++.
As NMF Partner you will get:


1 year right of return on all products
– When you do business with NMF the products are not going to be stuck on your stock.


Constant prices at least 12 months
– We are constantly working on our supply chain to reduce price increases, therefore you get stable prices.


Day-to-day delivery
– Order is shipped same day and delivered the next day. NMF's drop shipment leads to shorter delivery time.


Sustainable – We care for the next generation
– NMF can strengthen your sustainable profile with our selection, knowledge and sales material.

And much more…
The more item numbers the more advantages.
See all the benefits and download NMF's customer leaflet here.
* Nordic Swan Ecolabelled selection, Nordic Recycle Trolley & Nordic Recycle Waste Management.