No,
definitely not
There exist a lot of different qualities when it comes to microfiber – the crucial is how good the fibres must be and how long service life the product is ought to have.
Just as it is known from different qualities of the cotton of one's clothes.
Quality of raw materials and the technology when splitting the fibres are crucial to the cleaning perfomance and the durability of the microfiber products.
Technology is crucial to the quality of the final product;
the worse splitted microfiber the shorter service life and worse absorption capability.
Some good advice as a consumer is to choose a product that is ecolabelled with The Nordic Swan Ecolabel.
The ecolabel guarantees the highest quality and a long service life (minimum 500 washes).
It is simply a demand from Ecolabelling Denmark that microfiber products labelled with the Nordic Swan Ecolabel have extended shelf life*.
The demand exists i.a. to reduce the environmental impact from buy and throw away products.
Therefore, the Nordic Swan Ecolabel is a seal of approval.
NMF microfiber technology; the fibres are splitted in a way to obtain the highest quality possible:


Long durability
– reduces the costs in the long run


High absorption capability
– and therefore long reach


Soft fabric
 – protects the surface and the hands


No lint
– perfect cleaning result
*Source: Ecolabelling Denmark – criteria for ecolabelled microfiber products.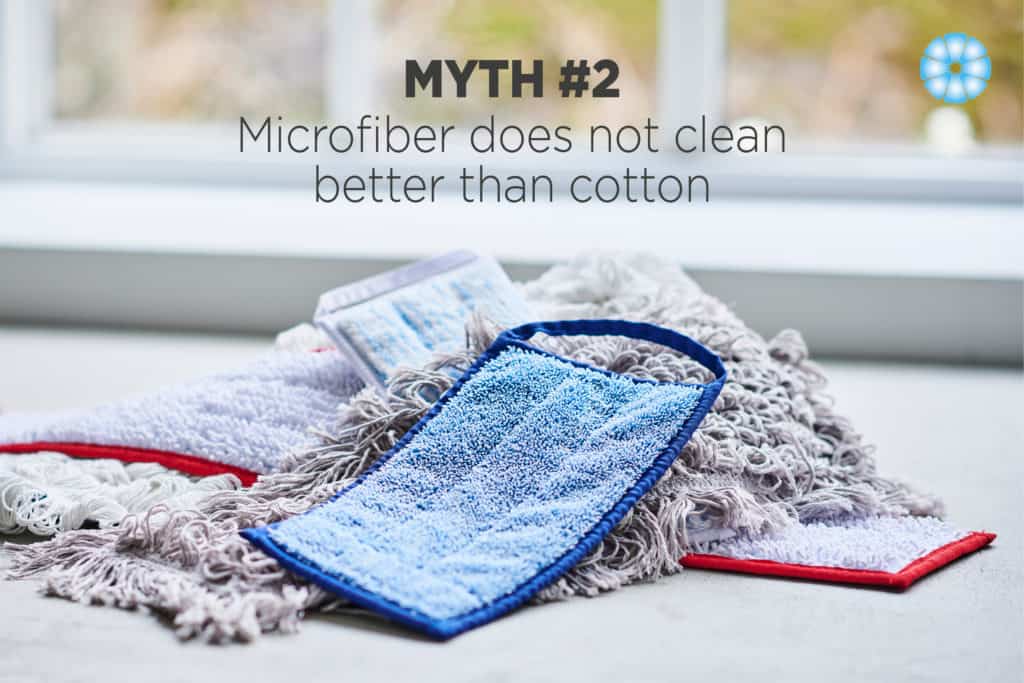 Yes, there is a significant difference in the cleaning quality
NMF microfiber has a very high cleaning performance compared to other fibres.
If you choose microfiber  rather than for example cotton, you will experience a substantial difference in the cleaning quality.
Therefore, it is not unimportant which product you choose.
NMF microfiber is extremely thin fibres that are splitted and controlled in ur laboratory*.
NMF microfiber technology ensures the highest quality
– the microfibres simply catches all bacteria and dirt they come close to.
NMF microfiber cleans the smallest irregularities.
The microfiber both collects dirt and bacteria – and contains them in the fibres.
When you use a dry microfiber cloth it gets electrostatic and thereby attracts dust.
When you use af damp microfiber cloth it pick ups dirt and bacteria.
NMF microfiber has very unique qualities:


Documented pickup of 99-99,9% of bacteria
– all Nordic Swan ecolabelled products are examined an ISO certified bacteria pickup test


Protecs environment and health
– use a 1/3 less water and a 1/2 less chemichals compared to cotton mops


Improve the cleaning quality significant
 – it means i.a. that the indoor climate is improved
*Read more about NMF laboratory and download all the test reports here:
www.nordiskmicrofiber.com/innovation-and-documentation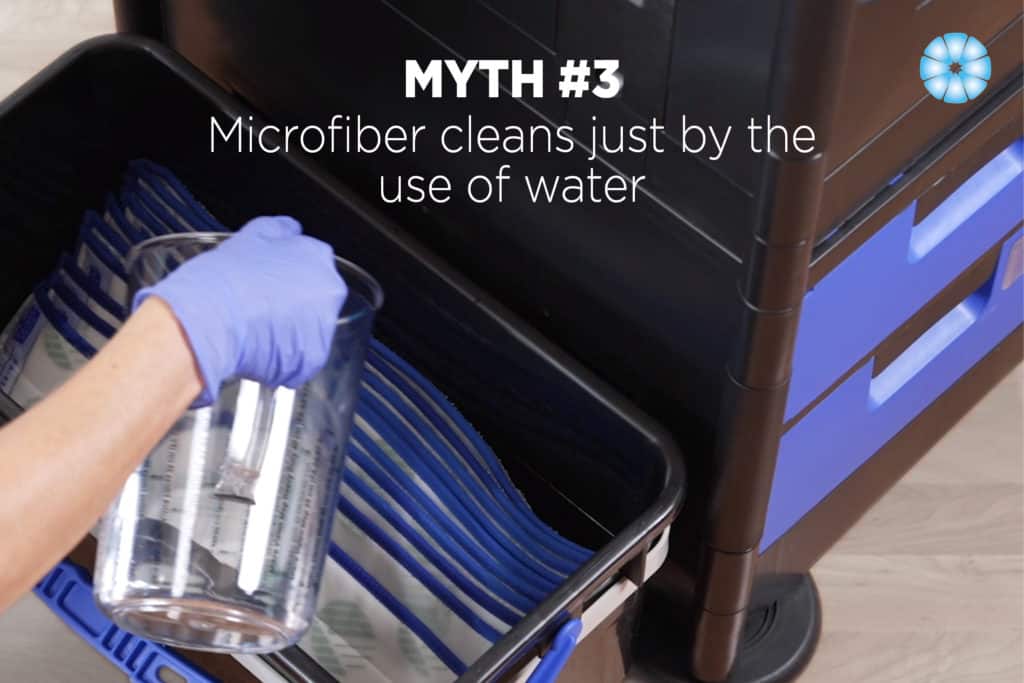 Yes, correct
But we advise to also use chemicals, because…
NMF microfiber works perfectly by itself and only with water.
It is documented via ISO certified test reports where the products are tested only with water*.
Why do we still advise to use chemicals?
We do that because of 3 simple reasons:


Chemicals break down lime in the water
– limescale stains on the floor are avoided


 Chemicals break the surface tension of the water
– the water is distributed even on the surface


Chemicals add floor care products
 – most floors need that
*Read more about NMF laboratory and download all the test reports here:
www.nordiskmicrofiber.com/innovation-and-documentation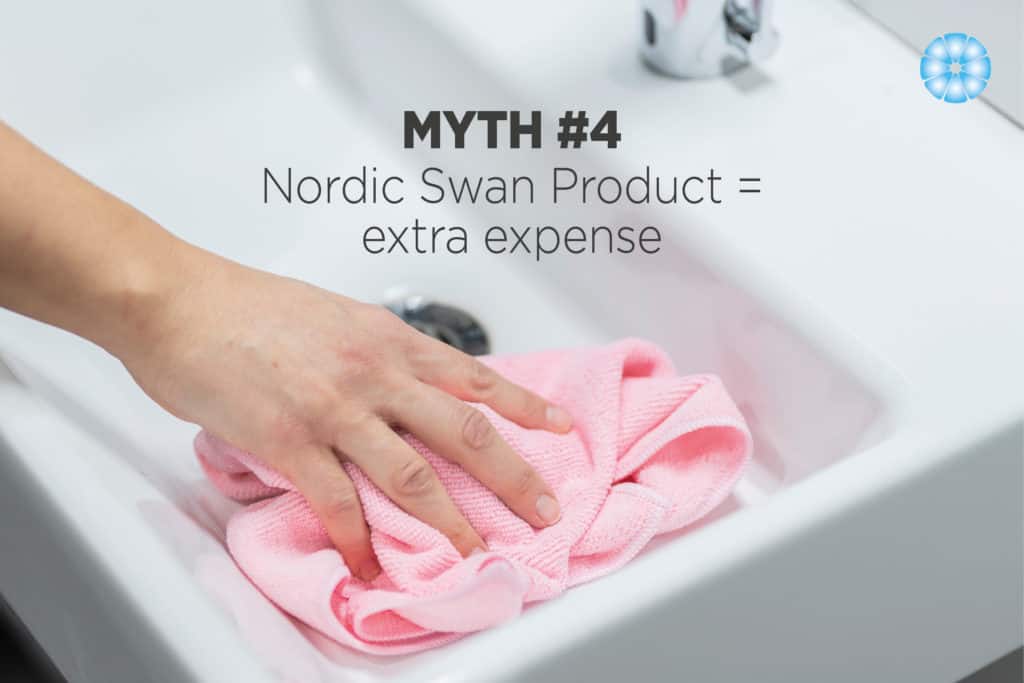 No, on the contrary
Actually, the documented total cost savings are 47%,
when you choose a NMF swan labelled microfiber mop.
How is it possible to save 47% on the mop purchasing?
We have documented that through TCO (Total Cost of Ownership), which is a useful tool for analysing the total costs at floor-washing.
Nordic Swan Ecolabel is the highest environmental certificate.
It is equal the best raw material, the highest cleaning performance, longest durability and economic savings .
And it is profitable to choose the Nordic Swan Ecolabel: according to YouGov 67% of the danish people are looking for the Nordic Swan Ecolabel, when they choose articles*.
FACTS about Nordic Swan Ecolabelled microfiber products:


ISO certified test: 99-99,9% bacteria pick-up rate
– download test reports at www.nordiskmicrofiber.com


Guaranteed minimum 500 washes
– reduces the costs in the long run


100% recyclable
 – can be reproduced to new products again and again

TCO documented cost savings in the overall economy
– Fewer purchase of mops
– Fewer change of moos during cleaning
– Wash and transport of fewer mops
*Yougov: Many danes use the Nordic Swan Ecolabel as indicator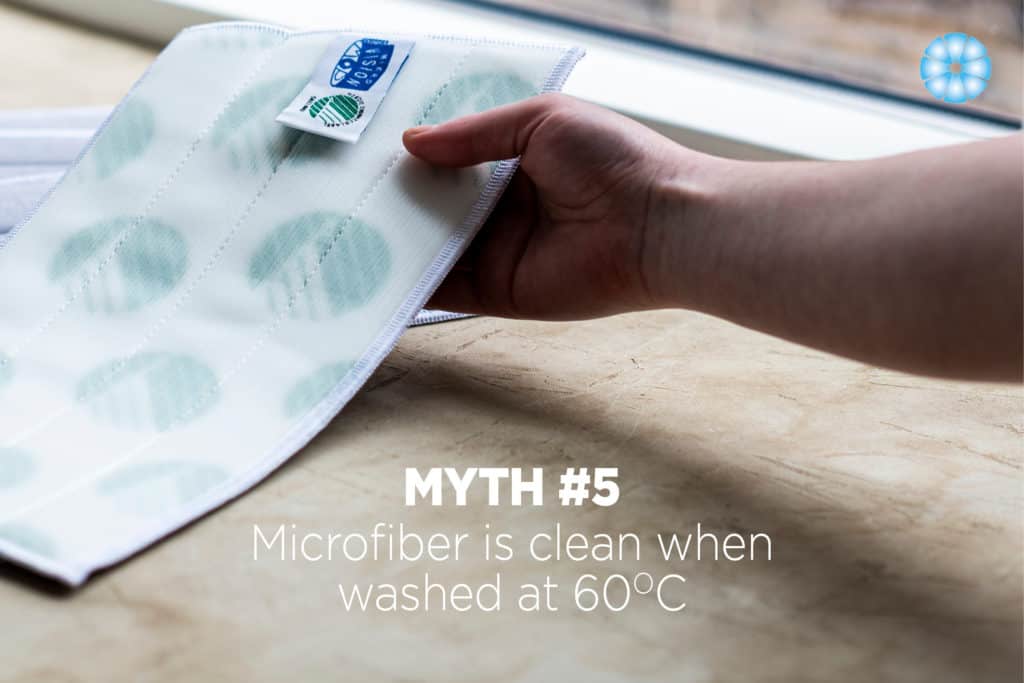 Almost, but it reduces the cleaning and service life
Did you know that microfiber are self-cleaning from 67 degrees?
The fibres open up at 67°C, where the water hoses the splitted fibres.
If you wash microfiber products under 70°C, because the fibres will not be completely clean
when washed at lower temperatures.
It means that the cloth gets a bit greasy on the surface and gets a filthy look after some time.
Of course it reduces the cleaning and  when all comes to all the product will not last all the service life.
Therefore, it is important to wash microfiber correctly.
NB! Changed washing instructions for NMF's microfiber mops and microfiber cloths
Since the development of the covid-19 outbreak in Denmark has changed significantly, we hereby call attention to change of washing instructions for ALL NMF's microfiber mops and microfiber cloths.
Because of danger of infection we change recommended washing instructions so covid-19 do not survive when washing.
Wash at minimum 80°C with regular liquid detergent – regardless wheres the products are used.
New corona virus gets inactivated at minimum 80°C and when using regular detergent, therefore there is no need to increase the dosage of detergent or use disinfectant, when you wash.
Under normal circumstances we recommend wash at minimum 67°C when products are used in areas with danger infection. We emphasise the importance of changing it to minimum 80°C to avoid spread of infectious disease.
The change applies to all NMF microfiber products regardless which area they are used in.
If the products are used in the segment, where a lot of different types of viruses and bacteria, we always recommend to follow the guidelines of Statens Serum Institut for National Infektionshygiejniske Retningslinjer (NIR).
Follow the washing instructions to maintain microfiber products correctly:


Do no wash under 70 degrees
– it ensures clean products


Use regular detergent (Ph<10,5)


Do not use fabric softener as it encases the fibres
 – if used, wash again without fabric softener


Do not wash with other textiles
 – microfiber keeps nap from other textile


When using a tumbler to dry:
 – Use the cool tumble dry setting or cupboard dry, max 60 degrees
Download maintenance guide here.