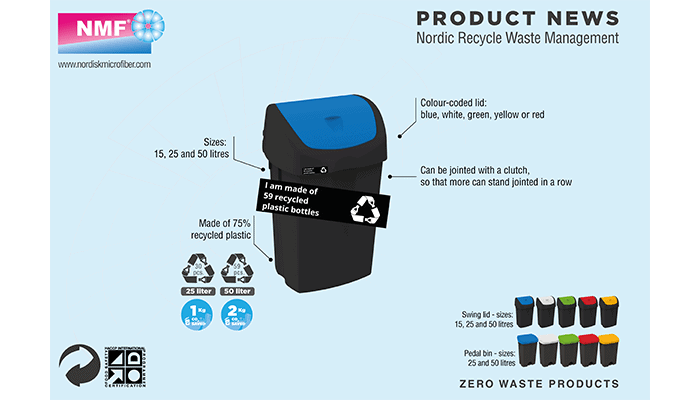 Nordic Recycle Waste Management
NRW is a new waste management system – it is stylish, functional and sustainable!   
It is made of 75% recycled plastic and all materials used are 100% recyclable. The series therefore forms part of the circular economy, which more end-users now have as a demand.
As a matter of fact, NRW consists of recycled plastic corresponding to between 32-64 recycled plastic bottles, and they save up to 2 kg CO2 per waste bin.
Nordic Recycle Waste Management:
Available with swing lid or as pedal bin
HACCP licensed: can stand in areas with foodstuffs
Easy to clean which prevents accumulation of bacteria
Stylish and functional design: black with color-coded lid
Made of 75% recycled plastic
All materials used can be recycled – takes part of the circular economy
See the NRW series right here.
To read or download the NRW brochure click here.
For several years we have offered sustainable products that both reduce the environmental impact, take care of the end-user and result in significant economic cost savings.
In 2018 we introduced our TCO tool (Total Cost of Ownership), which documents cost savings in the overall economy. In April 2016 we launched the Nordic Recycle Trolley series, which is made of the same material as the waste management systems.
Together they form the most sustainable cleaning concept in market.
Therefore, expanding the sutainable product line comes perfectly easily to us.