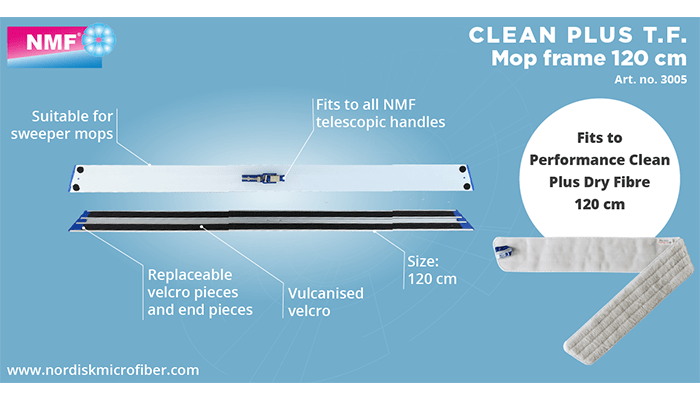 News: Extra light weight alu mop frame, 120 cm
Clean Plus T.F. – 120 cm
Art. no. 3005
We now offer a mop frame for velcro mops at size 120 cm after an increasing demand.
The size makes it possible to use velcro mops to sweep large areas.
Use Performance Clean Plus Dry Fibre, 120 cm – see it here.
Advantages when using the velcro mop, 120 cm:
It gets electrostatic and thereby attracts dust
Low friction – even on worn and rough floors
Easy to change mop
Possible to sweep a large area at once
The locking system easy-touch easily locks and unlocks the handle from the mop frame.
Clean Plus T.F. 120 cm is an expansion of the popular series of NMF's mop frames of aluminium, which is also available in  25, 30, 40 and 60 cm – known for velcro pieces of high quality among other things.
Find all data for Clean Plus T.F. 120 cm – press here.