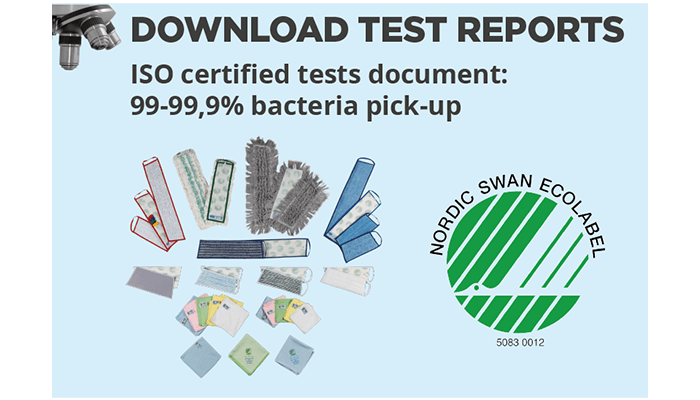 Documented cleaning effect
All of our Nordics Swan Ecolabelled products have undergone an ISO-certified test to document their ability to collect bacteria.
The tests document a bacteria pick-up between 99-99.9%.
The test reports are ready for download for each Nordic Swan Ecolabelled product.
Guidance based on data and documentation increases the credibility and it provides security for the purchaser and end user. That is why test report are an extremely efficient sales tool.
Besides the capability to collect bacteria, other advantages come with Nordic Swan Ecolabelled products:
Guarantee for highest product and cleaning quality
Minimum 500 washes guaranteed
TCO documented cost savings in the overall economy:

Fewer purchase of mops
Fewer change of mops during cleaning
Wash and transport of fewer mops
See all Nordic Swan Ecolabelled products here.