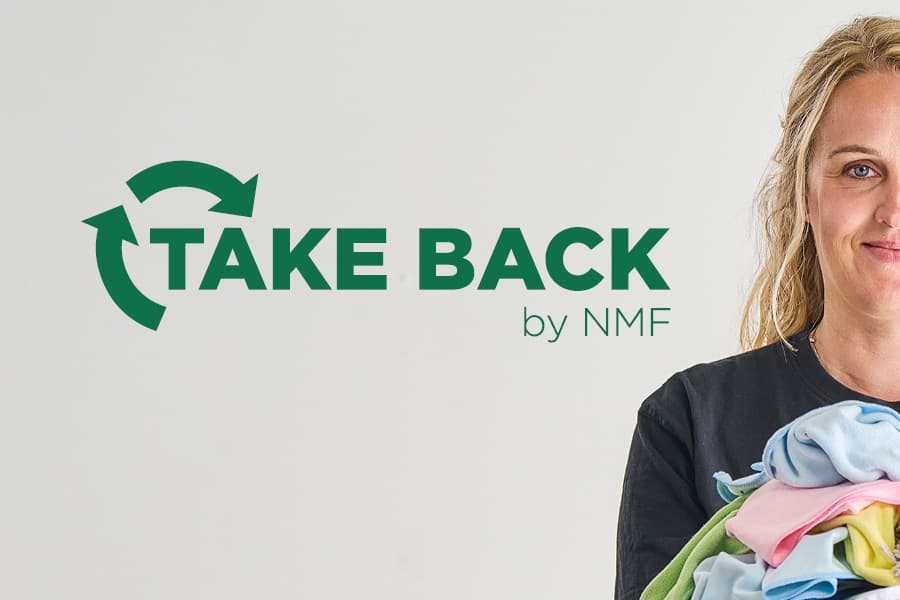 NMF launches ground-breaking take back system for microfiber
From waste to resources
We have innovated the way we throw out microfiber products now as today the cloths and mops are sorted as refuse disposal. They are being incinerated, and valuable material is going to waste. NMF wants to change that and therefore we now launch TAKE BACK by NMF.
We collect. We sort. We recycle.
It is the most visionary project we have launched, and it raises the level of sustainability in the cleaning industry. The take back system increases recycling and minimise throw-away behaviour.
The recycling solution is developed in cooperation with Danish Technological Institute and is funded with EU resources.
First in Europe
TAKE BACK by NMF is the first take back system in Europe for microfiber. We collect all brands if they are labelled with the Nordic Swan Ecolabel.
We collect used microfiber products and recycle it to a new product: a reel for industrial use REmade in Denmark. It is useful for absorption, wiping and covering.
Every year we bring +1,000 tons Nordic Swan Ecolabelled microfiber products to the Danish market and we want to take on responsibility for correct disposal of them. Instead of letting them go up in flames we have developed a take back system and a recycling solution.
Microfiber is not an easy material to recycle because it is a mix of primarily polyester and polyamide but also cotton and viscose, which complicates the recycling possibilities to a great extent. Therefore, this fraction of waste is not the first one to solve for the operators in the waste industry.
We challenged the existing solution, and it has brought us to different kinds of solutions, recycling it into yarn and melting it into plastic. All possible solutions have been examined in cooperation with Danish Technological Institute.
REmade in Denmark – from cloths and mops to industrial reel
We replace the traditional reel of paper with a reel of recycled microfiber that is useful for absorption, wiping and covering.
It results in measurable effects for the environment: the CO2 emission is 67,4% less compared to a reel produced of virgin paper.
See more about the process and the product in the brochure.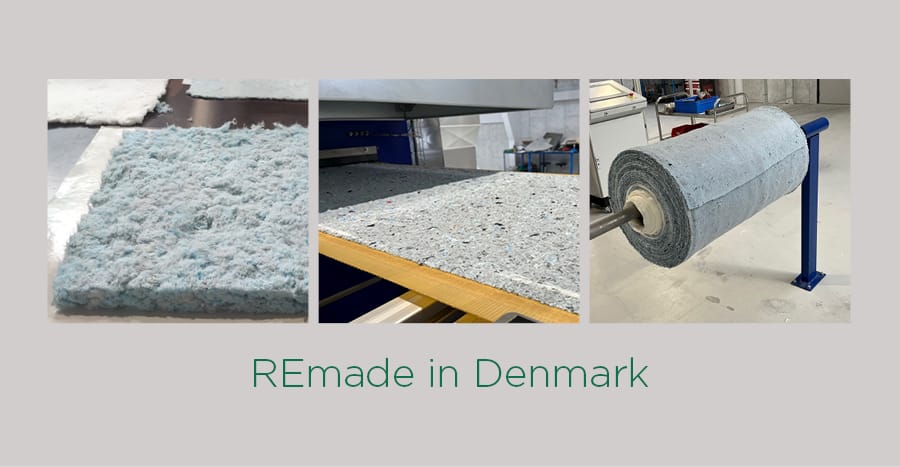 Documentation
When you are a user of the system you will receive a yearly certificate as a documentation for the specific difference you are making for the environment.
The certificate contains:
Amount of microfiber products returned [kg]
Reduction of energy consumption [MJ/kg]
Reduction of water consumption [L/kg]
CO2 reduction [Kg CO2 eq./kg]:
Recycling of the future
With TAKE BACK by NMF we have challenged the present solution for recycling of microfiber, which is non-existing. But we do not stop here. An industrial reel is the end-product in first edition of the take back system. Our goal is that within 2 years we are able to recycle microfiber to new yarn that can be used for producing new microfiber products. The technology is not able to do that now, but we are monitoring the technologies available.
Circular economy and Global Goals
The take back system is keeping the materials in a circular flow because microfiber gets an extra life. In the long term the material will be kept in the flow longer timer when the technology is able to spin it into new yarns.
TAKE BACK by NMF contributes to FN's Sustainable Development goal no. 12: responsible consumption and production. More specifically to target 12.5:
"By 2030, substantially reduce waste generation through prevention, reduction, recycling, and reuse."
TAKE BACK by NMF is a concrete initiative in the green transition. 
Read or download the brochure about TAKE BACK by NMF here.