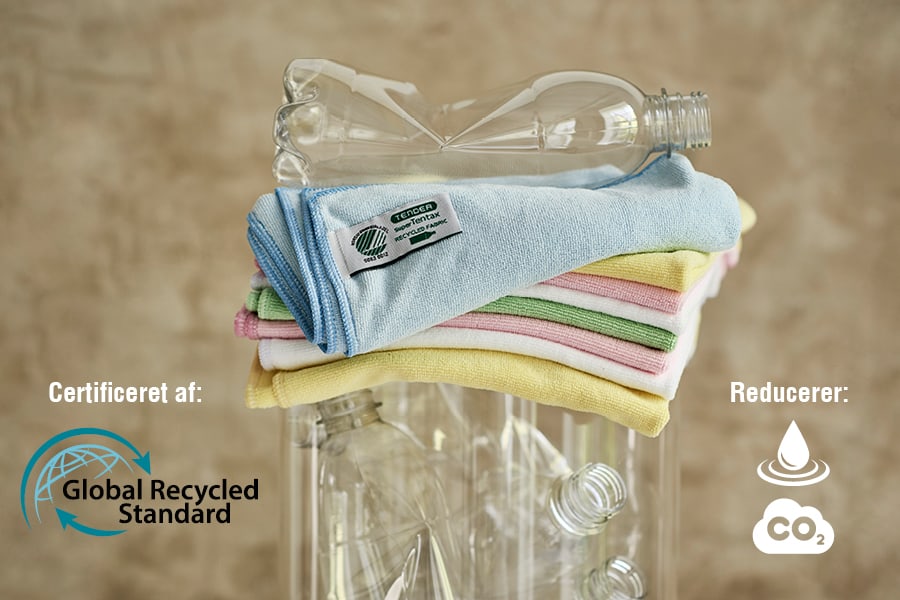 Microfiber cloth of 70% recycled post-consumer waste
The popular microfiber cloth Super Tentax is now produced of 70% recycled polyester, certified by Global Recycled Standard (GRS). The GRS certification offers security for wholesalers and end-users. GRS is an assurance that the product  actually is produced of recycled material.
Recycled polyester provides measurable positive impacts on the environment.
The impacts are visible in the production when we use recycled polyester instead of virgin polyester:
✔ 70% less water consumption
✔ 15% less CO2 emission
✔ 70% recycled polyester
Naturally, Super Tentax Recycled is of same high quality as the one you already know. It is available in 32×32 and 40×40 cm.
Remember, it is easy to access all documentation needed. See or download datasheet or test report right here.
NMF is first in Denmark with GRS certified microfiber products for professional cleaning. Our ambition is that in 2025 our entire series of Nordic Swan ecolabelled products is GRS certified.  produced of recycled material. And naturally, all the products are GRS certified. The products will be produced of the greatest possible amount of recycled material without affecting the quality of the product or the cleaning performance.
Read more about GRS and NMF's other certificates here.