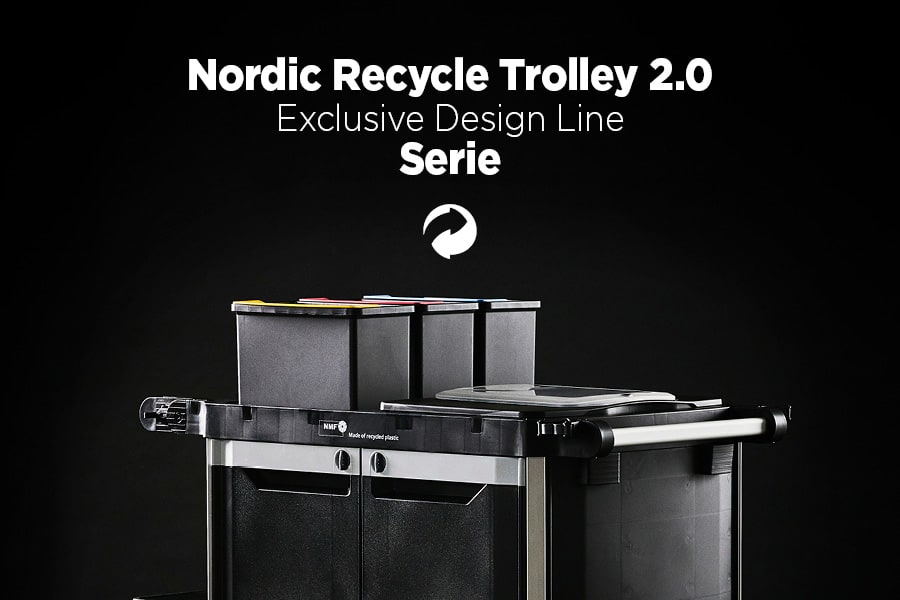 NMF launches exclusive and sustainable trolleys
This week we are launching Nordic Recycle Trolley 2.0 – Exclusive Design Line.
A complete series of the future's cleaning and support trolleys.
The series includes 9 different models for Facility Management and HoReCa.
The future demands for cleanings trolleys are incorporated in NRT 2.0. A powerful and massive update compared to the previous version – all inputs from the market the past 4 years have been updated on NRT 2.0.
The series stands out with an exclusive design and a sustainable materials. The future is recyclable. The future is NRT 2.0.
NRT 2.0 Facility Management & HoReCa
✔ 78-90% recycled plastic of consumer waste
✔ 100% recyclable
✔ 2-layer plastic and construction of aluminium
✔ Load capacity: 300 kg
✔ +10 years' service life
✔ Ergonomic with 180° adjustable handle
✔ Production in Odense, day-to-day delivery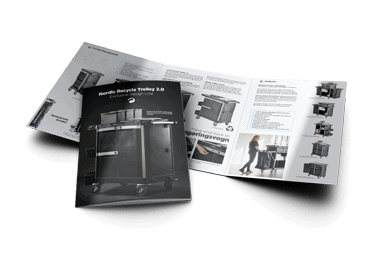 Produced of 78-90% recycled plastic of consumer waste collected in Europe and aluminum. Aluminium is an eco-friendly metal that can be recycled over and over again.
The trolleys are 100% recyclable so they can be recycled as new products. The service life is +10 år. And a long service life is one of the most important parametre for a sustainable product.
If you want a product demonstration you are always welcome in our showroom in Odense.
NRT 2.0 Facility Management – Cleaning trolley of the future
A discrete and minimalist cleaning trolley. The matt black design and the colour coded handles on the buckets make the cleaning trolley perfect for places with visible cleaning. The details of aluminium complete the minimalist look.
Leave a professional and eco-friendly impression with NRT 2.0.
Flexible cleaning trolley that is easy for the end-user to rebuild when the needs are changing. Move shelfs around, remove doors or get more drawers.
Said briefly: customize the cleaning trolley for each customer's needs.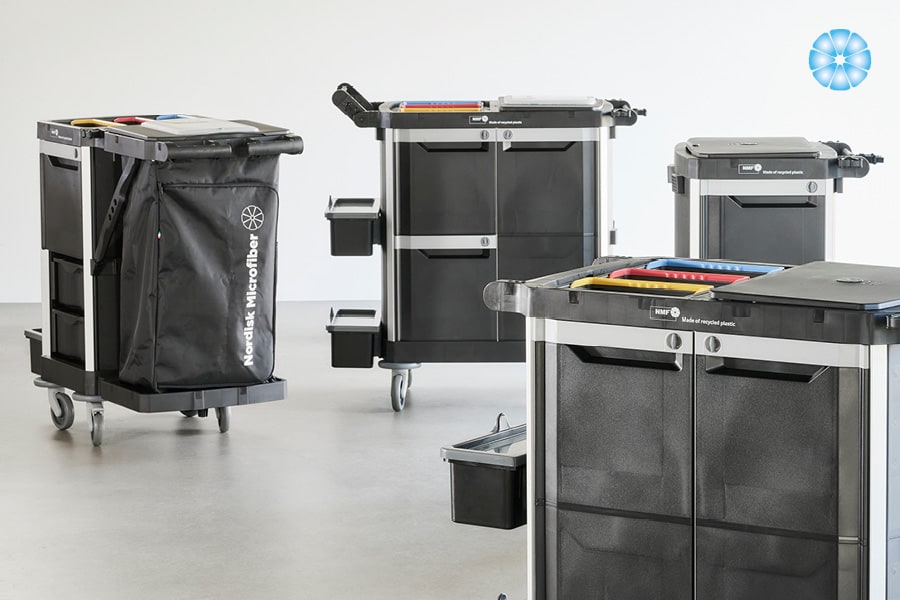 NRT 2.0 HoReCa – Exclusive service & hotel trolley
A thorough trolley for daily refilling and service on hotels. Use it to transport linen, towels, supplies or other practical things. Functional constructed – utilise the space to the max. Many storage possibilities for small and big things.
NRT 2.0 is tested to carry 300 kg. Despite the high load capacity the hotel trolley drives easily on the floor and is easy to manoeuvre. The large silent wheels and the solid contruction ensures the sublime driveability.