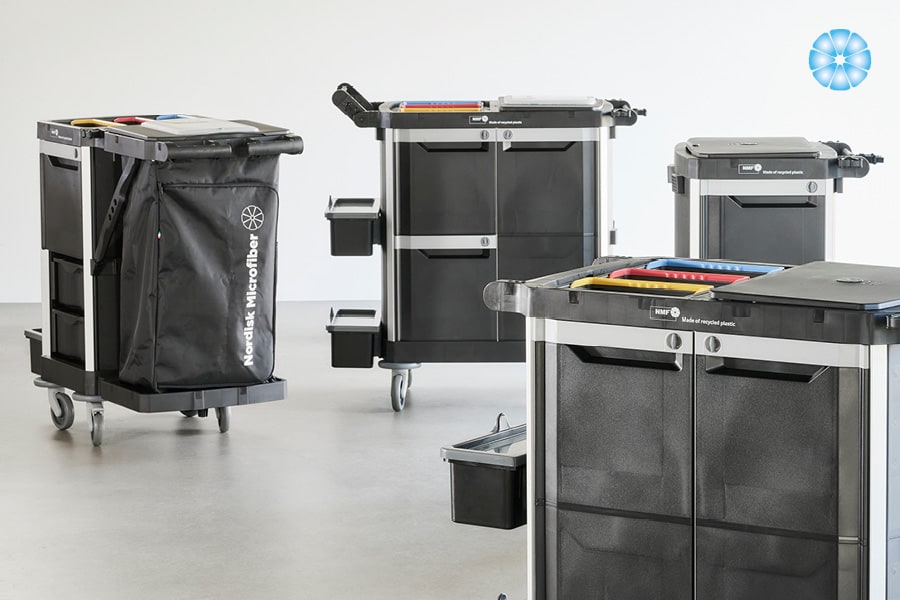 Cleaning trolley of the future: NRT 2.0 Facility Management
When you choose Nordic Recycle Trolley 2.0 you will have a cleaning trolley for the next 10 years. Minimum.
It obviously puts demands on the flexibility and therefore NRT 2.0 is built in modules.
It means that the trolley is easy for the end-user to rebuild when the needs are changing.
The matt black design and the colour coded handles on the buckets ensures a discrete and minimalist cleaning trolley. Perfect for places with visible cleaning. The details of aluminium complete the minimalist look.
Strong and durable trolley series
NRT 2.0 is extremely solid and is tested to carry 300 kg. It is a result from a strong construction of aluminium and solid 2-layer plastic. It ensures a cleaning trolley with a long service life.
The cleaning trolley drives effortlessly on the floor because of the large and noiseless wheels.
The trolley is easy to push forward and just as easy to manoeuvre.
Innovative details
… And the difference is to be find in the detail.
The future demands for cleanings trolleys are incorporated in NRT 2.0. Therefore you will find innovative details on the trolleys for Facility Management:
Holder for i-mop up to size XL. Purchased as accessory

Handle holders are at level with the trolley. Useful for narrow places

180° adjustable handle for an ergonomic cleaning trolley

Place the buckets immersed or elevated. Elevate them for more storage place

Discrete locking mechanism with detachable keys on all doors
The details make a notable difference in the daily cleaning.
Both when it comes to ergonomic, security and user-friendliness.
Experience the difference  – drop by NMF's showroom in Odense, if you want to see and try the cleaning trolleys.