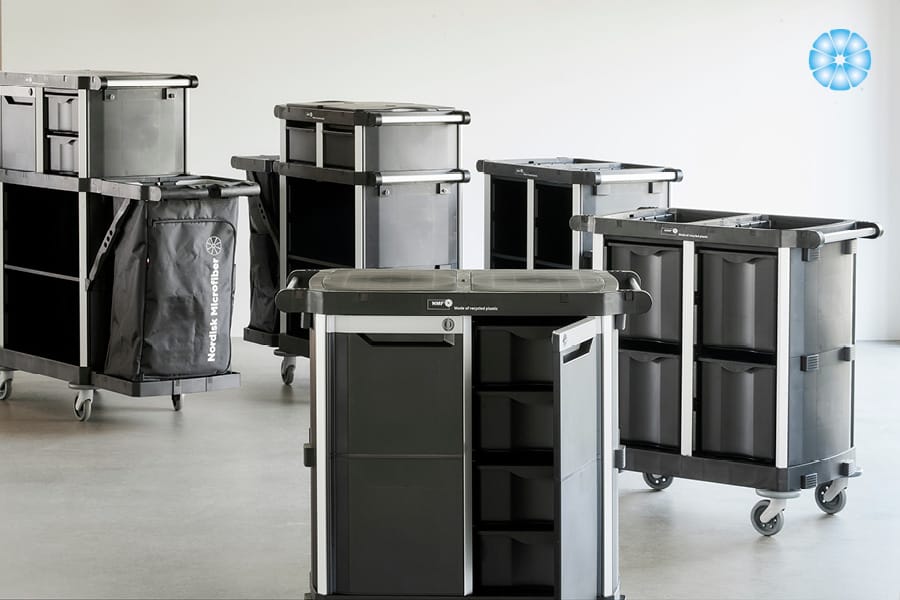 Exclusive and sustainable trolleys: NRT 2.0 HoReCa
Experience the new exclusive and sustainable series of hotel trolleys:
Nordic Recycle Trolley 2.0 HoReCa – a complete series with 5 models.
The perfect trolley for daily refilling and service on hotels. Use it to transport linen, towels, supplies or other practical things.
The minimalist design and the sustainable materials leave a professional and eco-friendly impression.
Utilize the space to the max
NRT 2.0 HoReCa series includes different models for all needs. All the models have many storage possibilities for both small and big things.
And the trolley can easily be filled up as it is testet to carry 300 kg – without compromising on the driveability.
The large and noiseless wheels together with the solid aluminium construction ensures that the trolley drives effortlessly and is easy to manoeuvre.
With NRT 2.0 you quite simply get sublime drive ability combined with a high loade capacity.
The hotel trolley of the future

NRT 2.0 stands out with an exclusive design and sustainable materials. The trolleys are produced of recycled plastic from consumer waste collected in Europe and of aluminium.
✔ 78-90% recycled plastic from consumer waste
✔ 2-layer plastic and solid construction of aluminium
✔ Load capacity: 300 kg
✔ +10 years' service life
✔ Can be customized for every need
✔ Production in Odense, day-to-day delivery
The trolleys are 100% recyclable so that they can be recycled as new products.