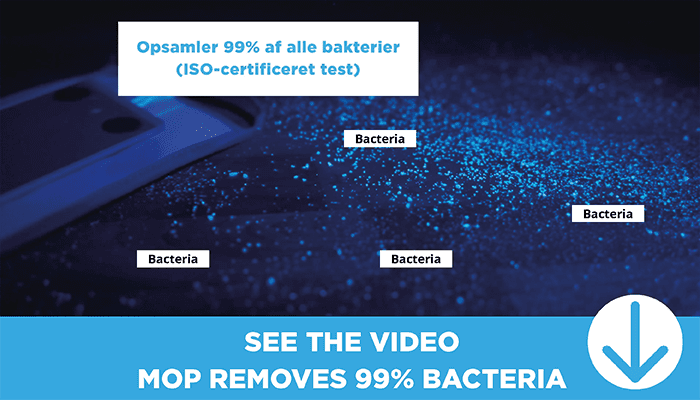 See documentation: mop removes 99% bacteria/viruses
Some times it helps to see things for oneself – then why no just show HOW good Mikro Vision Mop cleans?
It is possible with this video where the best seller mop removes 99% of UV illuminated bacteria mass 👇🏼
☑️ UV light illuminates simulated bacteria mass – before and after wiping
☑️ Demonstrates how easy Mikro Vision Mop picks up min. 99% bacteria
☑️ You can also show the ISO certified laboratory test that documents the pick-up rate
– of both baceria and microorganisms.
Download bacteria test: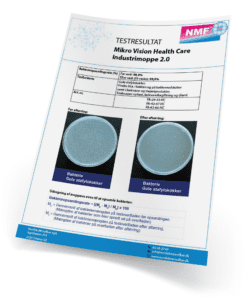 MIKRO VISION MOP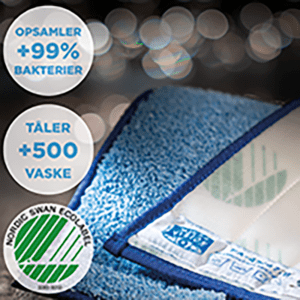 There are microfiber mops…..
And there is Mikro Vision Mop
An utstanding allround mop
The popular Mikro Vision Mop is the favourit on the market when it comes to allround mops with velcro. But why that one?
There are many reasons for that – here you get 3 of them:
Effecient allround mop
Suitable for all floor types except for non-slip floors
Easy to use
Minimal friction, so it slides easily over the floor.
And it leaves the surface completely clean at first wipe
Creates a healthy indoor climate
– Picks up min. 99% of all bacteria and viruses (microorganisms)
– Uses less chemicals and less water
See here how to use microfiber mops. 

Mikro Vision Mop is ecolabelled with The Nordic Swan
The Nordic Swan Ecolabel is the highest ecolabel. It is equal the best raw materials,
highest cleaning quality, longest durability, and economic cost savings.
You save 47% in total when you choose a Nordic Swan Ecolabelled NMF mop.
The TCO sales tool documents cost savings in the overall economy:
🗸 Fewer purchases of mops
🗸 Fewer change of mops
🗸 Wash and transport of fewer mops
There is simply used fewer mops  during cleaning. And when the mops in addition tolerate +500 washes,
it takes longer time before new mops need to be purchased.
That automatically creates economic cost savings in the long run.