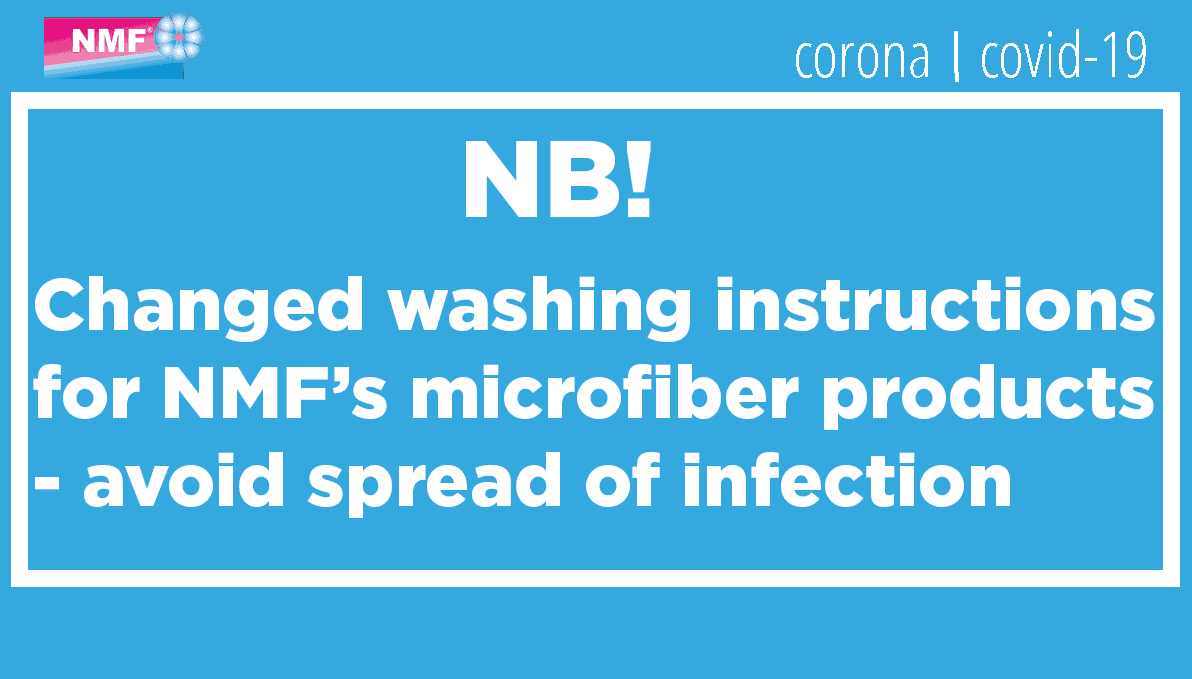 Covid-19
Changed washing instructions for NMF's microfiber mops and microfiber cloths
Since the development of the covid-19 outbreak in Denmark has changed significantly, we hereby call attention to change of washing instructions for ALL NMF's microfiber mops and microfiber cloths.
Because of danger of infection we change recommended washing instructions so covid-19 do not survive when washing.
Wash at minimum 80°C with regular liquid detergent – regardless wheres the products are used.

New corona virus gets inactivated at minimum 80°C and when using regular detergent, therefore there is no need to increase the dosage of detergent or use disinfectant, when you wash.
Under normal circumstances we recommend wash at minimum 67°C when products are used in areas with danger infection. We emphasise the importance of changing it to minimum 80°C to avoid spread of infectious disease.
NB! The change applies to all NMF microfiber products regardless which area they are used in.
If the products are used in the segment, where a lot of different types of viruses and bacteria, we always recommend to follow the guidelines of Statens Serum Institut for National Infektionshygiejniske Retningslinjer (NIR).
The majority of NMF's microfiber mops and microfiber cloths are tested at our laboratory.
Here it is documented that they tolerate more than 500 washes at 95°C.
Delivery status
We have experienced a larger demand the last couple of weeks, especially on microfiberfiber cloths for cleaning and wiping. Therefore a few colours are backorders for a short period of time, but goods will continuously coming into our stock in Odense. We run productions all the time so naturally, the stock will continuously be  filled up the next weeks and months.
Naturally, we have implemented new procedures and hygienic guidelines both on the office, the stock and in logistic. That way we secure that everything runs as planned under the right conditions.
Our stock works hard, and all orders recieved before 2 pm are being send the same day.
#SSI.dk #STPS.dk #Hygiene #Cleaning #HealthCare #Specialist #ProfessionalCleaning #covid-19